Andy Partridge
The Fuzzy Warbles Collection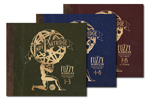 Volumes 1-3/4-6/7-8 plus Hinges (which was previously only released as part of a limited edition boxed set).
Triple cd x 3 - order for April 1st release
Andy Partridge and Todd Bernhardt
Complicated Game - Inside The Songs Of XTC

Developed from a series of interviews conducted over many months, Complicated Game details Andy Partridge songs from throughout XTC's career and provides a unique insight into the work of one of Britain's most original and influential songwriters.

Filled with anecdotes about Partridge, his XTC bandmates, and the band's adventures around the world (all told with AP's legendary humour), Complicated Game casts new light on the writing of lyrics, the construction of melodies and arrangements, the process of recording, and the workings of the music industry.

The book includes pages from Partridge's songwriting notebooks, reproductions of his original artwork designs, a guide to Andy Partridge's Swindon and a foreword by Steven Wilson.

Pre-order for 31st March release. All pre-orders sold through Burning Shed/APE come signed by Andy Partridge.
(book order)
xtc
The Monkees - Good Times!

The Monkees celebrates its 50th anniversary with the group's first new album in 20 years.

The album contains tracks written specifically for the band by some of the music world's most gifted songwriters including Andy Partridge (XTC), Rivers Cuomo (Weezer), Ben Gibbard (Death Cab For Cutie), Noel Gallagher and Paul Weller. It also contains songs originally written for the group during the 1960s by Neil Diamond and Harry Nilsson.

order for 10th June release.
XTC Oranges and Lemons in 5.1

Oranges And Lemons is the third in a series of expanded XTC album reissues, including 5.1 Surround mixes, new stereo mixes and High-Resolution stereo mixes by Steven Wilson, along with a wealth of extra audio and visual material.
Presented in LPCM Audio
- Album mixed in 5.1 Surround
- New Stereo Album mix
- Original Stereo Album mix
+ Blu-Ray extra material including:
new stereo album instrumental mixes,
multiple demo sessions, rehearsals, mixes & promo films for the singles.
(order now)