October 2018
Andy Partridge - Apples & Oranges / Humanoid Boogie

"1967's Summer of Love has probably been written about, in retrospect, by more people than were directly affected by the original – assuming that something more than simply buying "A Whiter Shade of Pale" as a single is required to count as affected. The revolutionary fervour of 1968, the myriad demonstrations & upheavals in a variety of cities & countries probably had more enduring legacy – even if the political gains seemed few at the time. Irrespective of how history either lionises or demonises the years in question, it's undeniable that both years were gifted with enduring soundtracks of epochal importance in pop & rock's great firmament as the first era of psychedelic music blossomed in the UK, USA & beyond.

Given his musical history, it is perhaps no surprise to discover that Andy Partridge has a special affection for the music of that era or to find that it was the English bands with whom he feels a particular affinity – one would have been more likely, albeit only marginally, to encounter Dantalion's Chariot on the radio in Swindon than say, The Charlatans (San Francisco variety) or Os Mutantes.

So when it came to making initial recordings in his newly upgraded studio at the end of 2017/start of 2018, it was to favoured tunes of half a century ago to which Mr. Partridge returned, specifically: Syd Barrett's Apples & Oranges (originally the A side of the third Pink Floyd single issued in November 1967) & Neil Innes' Humanoid Boogie (originally the Side Two opener from "The Doughnut In Granny's Greenhouse", the second album by The Bonzo Dog Band released in November 1968). Andy was one of those few who bought & loved the Floyd single & its equally fab B side Paintbox – it was their first not to chart in the UK, while The Bonzos, having featured in Magical Mystery Tour, went on to a regular, much watched TV slot on "Do Not Adjust Your Set" which was broadcast in 1968/69, making the album a 'must buy' when it appeared.

Meanwhile in 2018, with the songs recorded & pleased with the result, the next question became how best to release them & a 4 track (both songs in Stereo & Mono, naturally) 10" vinyl EP format in a picture sleeve with neither song identified as an A side became the format of choice.

Additionally, the EP is being released as a limited edition of 1,396 copies, available exclusively here..
All copies of the EP come with a signed postcard. Limited to 2 per person.

Price: £9.99
Format: vinyl
Artist: Andy Partridge
Availability: 28-06-2018
CatNo: APEEP901

Tracks
Apples and Oranges (stereo / mono)
Humanoid Boogie (stereo / mono)


APE HOUSE
news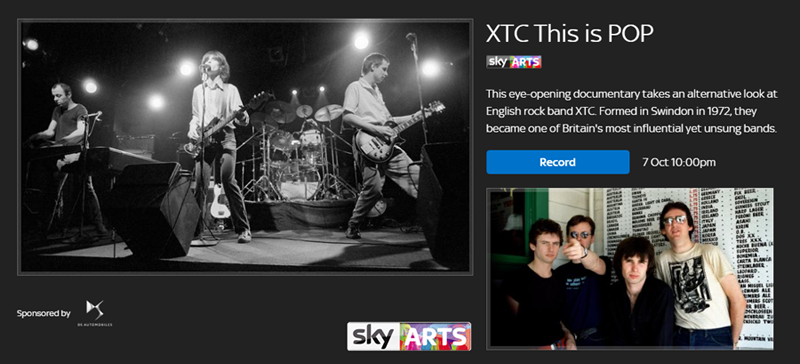 Jan 2018

SHOWTIME
XTC: THIS IS POP
Rated TV14 • 75 minutes

Emerging from the late 1970s punk and new wave explosion, XTC amasses a devoted following with hit singles like 'Making Plans For Nigel' and 'Mayor Of Simpleton'. Presenting a journey into the world of the band, the film includes newly filmed interviews with Andy Partridge, Colin Moulding, Dave Gregory and Terry Chambers. Through a mixture of animation, archive and specially-shot sequences, the film explores the minds of principle songwriters, Partridge and Moulding.

PETITION

XTC: This Is Pop on Blu-ray

Do you love XTC? This is a documentary every fan should see, and one you'll want to show to non fans as well. Only available by streaming via subscription channels, and an occasional television airing, this petition is an attempt to prove enough interest to get a blu-ray or DVD made and available for purchase.

Please add your name if you would be interested in a copy of this fantastic documentary, with bonus material. Including Andy on how he wrote THIS IS POP and BOOKS ARE BURNING, Dave demonstrating guitar parts, Steven Wilson deconstructing songs.
December 2015

Apple Venus - desktop wallpaper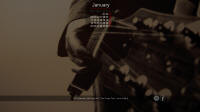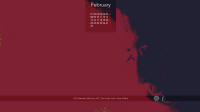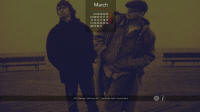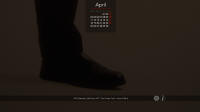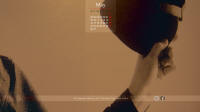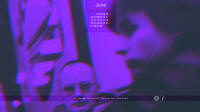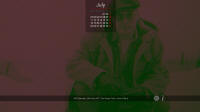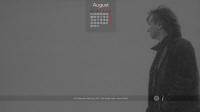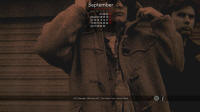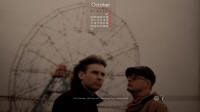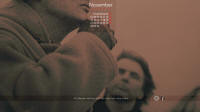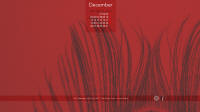 ---
Table printable calendar (official discography)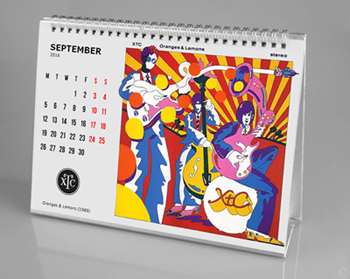 ---
Apple Venus - A4 printable

---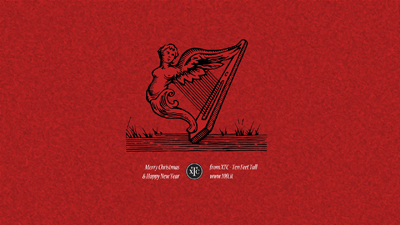 a Christmas wallpaper
(res. 1920x1080)
December 2014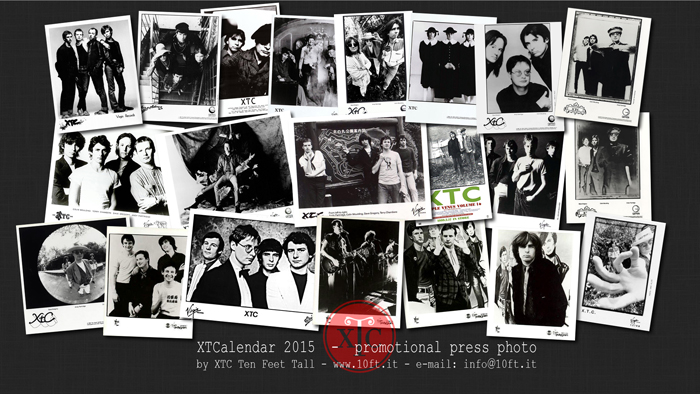 XTC promotional press photo - desktop wallpaper (resolution 1920x1080)
---
2015 Nonsuch Calendar
resolution 3540x4956
October 2014

- Press -

XTC - L'Estate pagana di Andy Partridge

di Alessandro Besselva Averame
RUMORE/Retropolis - Luglio-Agosto 2014

Grazie a Alberto Repetti
September 2014

- Press -

XTC. La saga di "Skylarking
Andy Partridge vince al 28° round

di Riccardo Bertoncelli
Blow Up - Maggio 2014

Grazie a Alberto Repetti
April 2014

- Lyrics -

Completate le traduzioni in italiano di:

White Music
Go 2
Drums and Wires
Black Sea

Grazie a Carla Roncalli di Montorio

Pdf/black and white
Jpg/colours version

resolution 3540x4956
ready for print in A3, A4 and other format (min. 300 dpi)

---

Desktop wallpaper
colours & greyscale - resolution 1920x1080

images scraped from XTC Game NONSVCH
Doing an XTC tribute show in Minneapolis Mn, USA.
Great musicians, great cause. Check out the listing www.icehouse.com and if you have any members here in the states let them know!

By Chris (U.S.A.)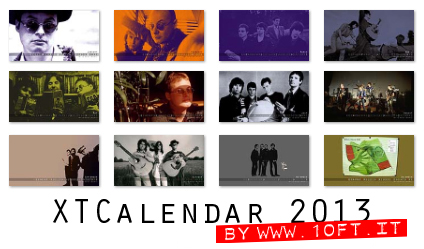 Mike Keneally "Wing Beat Fantastic:
Songs written by Mike Keneally & Andy Partridge"

Go in Album's page
---
1000 DISCHI FONDAMENTALI

a cura di Eddy Cilia e Federico Guglielmi
Giunti Editore (collana Bizarre) - 2012

Recensioni di Drums And Wires, English Settlement e Skylarking
Mike Keneally "Wing Beat Fantastic:
Songs written by Mike Keneally & Andy Partridge"

This magical new album from composer/producer/multi-instrumentalist/vocalist Mike Keneally is the highly anticipated result of a songwriting union between the famed rock experimentalist and legendary XTC tunesmith Andy Partridge
XTC Essential - the last collection

The Power Popaholic Interview: Andy Partridge

I finally was able to get in touch with one of my favorite artists, XTC's Andy Partridge and get to him some questions that I have been itching to ask for a while now. We talk about his own label Ape House and was there another Dukes of The Stratosphere album in the works? Click on our artist interviews section to find out or view the Andy Partridge interview here.

from Egidio Sabbadini's Facebook page
---
Easterling and Gildersleeve

wrote and recorded a tune about XTC
- please visit -

(many thanks to Steve Easterling)
---













res. 1280x800








XTC Skylarking 2LP Deluxe

Both sumptuous versions of the remastered and sonically corrected Skylarking vinyls are available to pre order from the Ape Store now. There are 2 versions to choose from, both double albums cut at 45rpm and for the first time reunite the tracks lost in the shuffle between UK and USA versions, so both Dear God and Mermaid Smiled are in their proper places at last.

The STANDARD version comes in a beautiful gatefold sleeve printed in GOLD with new lyric inner bags and is priced at GBP 26.99 inc VAT [GBP 22.97 ex VAT] The DELUXE Edition comes in a hardback book format with new sleeve notes written by Andy and Colin and unseen photos and sketches and this is a true collectors edition priced GBP 39.99 inc VAT [GBP 34.03 ex VAT]

---












XTC as The Dukes Of Stratosphear

The Complete & Utter Dukes Box Set (LTD Edition)

Complete your XTC as the Dukes of Stratosphear collection with this psumptuous limited edition boxed set.

This purple cloth covered box has space inside to hold the CD's 25 O'clock and Psonic Psunspot and also includes -
*500 piece Dukes Jigsaw
*7 inch single of Tin Toy Clockwork Train/The Affiliated
*Theres some Dukes $ Dollars for you to keep
*180g Remastered 12inch heavyweight vinyl pressing 25 O'clock in gatefold sleeve
*180g Remastered 12inch heavyweight vinyl pressing Psonic Psunspot in gatefold sleeve

(The vinyl LP's will be released in their own right on 26/01/2010)

Only available with this box set is a EXCLUSIVE Dukes T-shirt, all you need to do is tell us what size T shirt you want.

This boxed set is priced (£49.35 ex VAT) WITHOUT the CD's 25 O'clock and Psonic Psunspot. If you would like to add either one of the CD's to your box and buy the complete set, then please check the relevant box below.

Price: £49.35 - £56.75 Including VAT at 15%

---
AN IRISH AND ENGLISH SETTLEMENT…..

Hello all…..!!

First off we would like to wish all our wonderful fans and friends a very happy new year for 2009. Here's to a memorable one.

Which leads us to our very special new year news which has been
promised for a while now (a 1000 apologies for the delay folks) but because good things come to those who wait we are eXsTatiCally proud to announce that Thomas, on behalf of Pugwash, has inked a 5 year deal with Andy Partridge's APE label in England…..!!

here the news
(from Pugwash official site)
● Lyrics - Thanks for Christmas
● Lyrics - Wait Till Your Boat Goes Down
(thanks to Paola Di Giorgio)



---
PUGWASH – AT THE SEA

Well….the headline says it all really. The new video for the next single from Eleven Modern Antiquities – At the sea is now up on YouTube for you all to enjoy. The track is one of two co-writes on the album that Thomas and Andy Partridge (XTC) composed.

from Pugwash official site

---
• Made in England - Il mondo pop degli XTC
di Sergio Varbella - Mucchio Extra
• XTC Drums And Wires - Mucchio Extra - 100 album fondamentali

Swindon
The Gathering - sep 29 2007 (photo by Michele Tezza)
● L'ultima follia di Andy Partridge

di Aurelio Pasini

Mucchio n. 634 - Maggio 2007

----------------------------------------------

MONSTRANCE is Andy Partridges latest project with keyboard player Barry Andrews and drummer Martyn Barker. Watch the video filmed by Mitch Keen to the forthcoming download single 'Winterwerk' on Ape's NEW Blog/Podcast section of our website.

http://apehouse.prevuz.com/

'Winterwerk' recorded live and improvised at Swindon's Headroom Studios is taken from the album MONSTRANCE due for release on Ape in April.
● XTC Theme - Oranges & Lemons | Drums and Wires
for Nokia 6600, 6630 and N series (needed Nokia PC Suite)
● Carissimi xtcfans,
Sul sito non l'ho visto, ma vi segnalo che nell'ultimo album (bellissimo) di Robyn Hitchcock, c'è un pezzo scritto da Robyn insieme al nostro caro Andy.
A me sembra un pezzo notevole.
Poi questa collaborazione è un mio vecchio sogno che si avvera.
Ciao a tutti
Franco
---
● Apple Vinyls - A Special Collectors Edition Set of 7 inch singles
---

A Special Collectors Edition Set of 7 inch singles.
In addition, the XTC song 'Where Did The Ordinary People Go'. As a special bonus there is a 7 inch single version of the tracks 'Spiral' and 'Say It' in its own picture bag.
• The Official Fuzzy Warbles Collector's Album

di VALERIA RUSCONI - Rolling Stone n. 38 - Dicembre 2006
---
di Alessandro Besselva Averame

Mucchio Extra n. 21 (X generazioni)

Primavera 2006
● The Fuzzy Warbles Collector's Album

box set, includes
- Fuzzy Warbles from Volume 1 to Volume 8
- a bonus cd Hinges
- the booklet "Hit Record and Play or A Brief History of Home Sound Capture", by Andy Partridge.

Further volumes of Fuzzy Warbles are obtainable from www.ape.uk.net
---

● from Ape House website:

Complete the Fuzzy Warbles Series.

Having had the knob twiddling talents of Ian Cooper at Metropolis Mastering, weave his magic over the tracks, Volumes 7 and 8 are now complete. Andy has deliberately left some of the best tracks till last. The full tracklistings for each volume are below.

The artwork is now completed by Andrew at Cactus Design, the covers are done and we are set for release on 24/9/06.
Details on how to order your copies will be available shortly
These two volumes will complete the Fuzzy Warbles Series.

Well almost......!

Fuzzy Warbles Volume 7

01. 2 Rainbeau Melt
02. Thrill Pill
03. Sonic Boom
04. I'm Unbecome
05. Ballet For A Rainy Day
06. 1000 Umbrellas
07. Ejac In A Box (MGOO)
08. C Side
09. Seagulls Screaming Kiss Her Kiss Her
10. Ladybird
11. Candymine
12. Visit To The Doctor
13. Cherry In Your Tree
14. Desert Island
15. Scarecrow People
16. Hold Me My Daddy
17. Books Are Burning
18. Bobba De Boop De Ba De Boobay
19. Open A Can Of Human Beans

Fuzzy Warbles Volume 8

01. Through Electric Gardens
02. Skate Dreams Wet Car
03. The Bland Leading The Bland
04. Silverstar
05. I Gave My Suitcase Away
06. Extrovert
07. Another Satellite
08. These Voices
09. Song For Wes Long
10. Happy Birthday Karen
11. REM Producer Enquiry
12. The Loving
13. Shalloween
14. Was A Yes
15. Genie In A Bottle
16. Disque Bleu
17. Poor Skeleton Steps Out
18. I Don't Want To Be Here (original demo)
19. Chalkhills and Children

2006
---
● the Fuzzy Warbles Series - Volumes 7 and 8 are now complete
---

XTC - Where Did The Ordinary People Go
the new XTC song, written by Colin Moulding
---
• Tutto quello che avreste voluto sapere (o possedere) sugli XTC in video
Return to the Dark Side of the Moon
A Tribute to Pink Floyd

Colin Moulding: lead vocals on Brain Damage and bass on Time.

Producer Billy Sherwood.
On the album: Adrian Belew, Tommy Shaw, Dweezil Zappa, Jeff Baxter, Robbie Krieger, Rick Wakeman, Steve Howe, Edgar Winter, Bill Bruford, John Wetton, Tony Levin, and more.
• XTC - Scheda biografica tratta da "Enciclopedia del Rock"
● Il Tempo delle Mele - Andy Partridge interview - (Press page)
● Collectors Figure Series - No1 White Music
---
● Discography/Compilations: Apple Box + Apple Bite

---
Apple Box unites the stunning Apple Venus Vol 1 and Wasp Star with its respective demo albums in a 4CD Set.

The Apple Set is LIMITED EDITION pack containing the Apple Box, a set of the 2 Apple Box T Shirts and a Badge plus a FREE extra item.

As part of the promotion for the Apple Box:
'Where Did The Ordinary People Go?'
new single written by Colin Moulding.

The other 2 new XTC songs 'Spiral' and 'Say It' are only available as digital downloads via the Apple Box content card, or as part of the bonus CD when you buy the special Apple Set.
---




A group of XTC fans are organising 'THE MEETING PLACE 2005' in Swindon, a gathering of XTC's fans from around the world to celebrate the music of XTC.
The date of the Meeting Place:
September 30th - October 2nd 2005

---
Mitch Friedman's Purple Burt (featuring Andy Partridge and Dave Gregory)

---
"

When greyness strikes run to the Kabinet of Dr. Shadow. He'll put the psychedelia back in your step!"
Andy Partridge XTC
HARK! by The Shadow Kabinet is now available in Italy at Vinyl Magic 3

Big thanks to Steve Somerset.
● Swindon: The Meeting Place 2005: 10ft's photos - COMPLETED

---
• Intervista a Todd Rundgren - Strumenti Musicali
● Garden of XTC(ly) Delights - News & Rarities from Egidio Sabbadini

---
---
● Swindon: The Meeting Place 2005: 10ft's photos
Apple Venus 1: ascolta lo spot radiofonico (grazie Gio)
download mp3:

WAR DANCE
MAKING PLANS FOR NIGEL
COMPLICATED GAME
YOUR DICTIONARY
WAIT TILL YOUR BOAT GOES DOWN
BOARDED UP
JASON AND THE ARGONAUTS

Gli Mp3 sono liberamente scaricabili per uso personale, qualsiasi altro tipo di utilizzo degli stessi richiede una specifica richiesta al webmaster di questo sito.

---
● Rainbow Drops & Finger Pops Live at the Rainbow - 1979.
Courtesy by The Red Curtain
● Discography/Compilations: cover of The Greatest
● Discography/Singles - I'd Like That - Promotional cd

---
● Senses Working Overtime - Sheet Music

---
---
● Homespun - Japanese version 2 CD

---
● Archive - Eleven Different Animals - Word and Music to the singles.
- 52 pages of XTC Song-Book and sheet music.


Courtesy by Franco Turra
● Discography/Singles - Making Plans for Nigel Gameboard

---
● Fans photo - Ivan with Dave Gregory
● Andy Partridge signs... a new label. (Press page)

---
● Cover of The Tiny Circus of Life

---
● Cover of Skylarking 24 Kt Gold Player

---
● Cover and pics of Waspstrumental, Instruvenus, Rag & Bone Buffet - Rare Cuts & Leftovers, The Compact, Waxworks / Beeswax

---
● Cover of Look Look - A Video Compilation

---
● Cover of Johnny Japes and His Jesticle - Bags of Fun With Buster

---
---
● Apple Venus Volume 1 "Picture Books" from Japan CD (Pony Canyon)

---
● Wasp Star "Picture-Book" from Japan CD (Pony Canyon)
---

---
Nella Press page:

● Nota ai testi di Paolo Bertrando, dal volume "XTC"
● Un'esplorazione fino al "Mare Nero"
● A tu per tu con uno strangolatore - Hugh Cornwell intervista gli XTC
● Dave Gregory, questo sconosciuto
● "Sweet Home Swindon" - Frammenti di conversazione con Andy e Charlie Parker
● Appunti per un'analisi della "Record-Cover"

---
● Lyrics updated

---
● Milano Nov. 27 2004 - photo of fans online
---

nella pagina "Press", due nuovi articoli:

● un'intervista - Knights in shining karma

● un articolo - Da Swindon alla stratosfera: l'odissea pop degli XTC
(tratto da Rockerilla che dedica la copertina agli XTC)

---
10FT graphic - updated!

● Discography: new pictures and upgrades
---

● Singles: I'm The Man Who Murdered Love

---
● Discography: Fuzzy Warbles Vol. 5-6
● English Settlement: XTC Font
Press:

• Pete Murray intervista Colin Moulding - Bass Player Magazine

• Darrin Fox intervista Andy Partridge - Guitar Player Magazine

Traduzione e adattamento di Roberto Galli

---
---

---

● Blog consigliato: The Petunia's weblog

---
---
---

TV series - Theme from FOX's new drama "Wonderfalls", written by Andy Partridge.

---

● Nessuna novità circa l'atteso DVD degli Xtc. Ne abbiamo parlato a Londra con chi si occupa del progetto. La Virgin ne ha momentaneamente bloccato l'uscita.

---

Apples and Lemons: an Interview with XTC
by Chris Tyrrell

---

• Metacritic - XTC Wasp Star (Apple Venus, Pt. 2)

---

• Candy Clock - XTC clock

---
Peter Blegvad - Andy Partridge
● Orpheus, The Lowdown

2003 Ape House Ltd.

APE House - Steve Somerset chats with Peter Blegvad

---

Buon giorno!
Come sta?
I thought you guys might like to put something on your website about 'The Wish List' , the album I have produced for the MS Society featuring a brand new Dukes Of Stratosphear track - 'Open A Can (Of Human Beans)'. It's a wonderful track and the album also features many artists that Andy Partridge has worked with - Stephen Duffy, Martin Newell, Harold Budd and my band The Shadow Kabinet. Dave Gregory also appears on three tracks - so it's a real treat for XTC fans. But don't hang around! This is a limited release so place those orders now! Link below as is the Press Release

http://www.mssociety.org.uk/50th_anniversary/50th_news/wish.html

I love your website - keep up the good work.
Grazie
i migliori auguri
Steve Somerset

NOW THAT'S WHAT I CALL A CHARITY ALBUM!

XTC's Andy Partridge says "This album is so good that even if I wasn't on it, I'd have to buy it."

This October sees the release of 'The Wish List' a ten track album to raise funds for the MS Society, Featuring Justin Hayward, of The Moody Blues, Stephen Duffy and Lilac Time, XTC's psychedelic alter egos The Dukes Of Stratosphear, Steve Hogarth lead singer with Marillion, Phil Thornalley (Natalie Imbruglia, Bryan Adams' and Mel C's producer), New York singer/songwriter and artist Peter Blegvad, LA composer Harold Budd, poet and songwriter Martin Newell, and The Shadow Kabinet.
The album was put together by The Shadow Kabinet's Steve Somerset whose wife has MS. When he discovered that 2003 was the charity's fiftieth anniversary he thought an album to raise funds would be a great idea.
Why 'The Wish List'? Because when Steve started the project, some nine months ago, that's exactly what is was; a piece of paper with the names of some of his favourite songwriters and musicians. After numerous telephone calls, e-mails, faxes and lots of badgering, most of them said yes. Over the next months tracks from studios all over the country rubbed shoulders with live tracks recorded in California, New York and Camden Town. The Wish List has eight tracks which are exclusive. The Dukes of Stratosphear, aka XTC, reformed, donned their paisley shirts and recorded together for the first time in 14 years.
"There was definitely a little bit of magic going on as we put the album together," says Steve. "None of the artists were aware what the others were doing but when you hear the tracks together they really complement each other.
It's a really strong album."

---

ANDY PARTRIDGE
Fuzzy Warbles #3
Fuzzy Warbles #4 Ape House

Abbiamo sognato per anni, noi malati di XTC, che Andy Partridge aprisse i suoi archivi e a ogni stella cadente abbiamo legato il desiderio di uno di questi demos. Dev'essere caduto il cielo. Da quando è libero dai ceppi Virgin, il signor Andy non fa che inondarci di quel materiale nelle più diverse forme. Si può fermare la piena, si può invocare, come dicono a Milano, "parola torna indietro"? Non si può... (continua)

Francesco Carbonara news

---

Completate le traduzioni dei testi dei Dukes of Stratosphear
con l'inserimento di "Bike Ride To The Moon" e "My Love Explodes".

---

Andy Partridge ha annunciato che pubblicherà il 23 Giugno, con la sua etichetta Ape House, i due prossimi volumi della serie "Fuzzy Warbles" degli XTC... Si tratta di compilation di rarità e outtakes, come già accaduto per i primi due volumi... Ma la notizia piu' interessante è che Partridge ha collaborato con PETER BELGVAD [sic] per un album in uscita questo mese e che ha come soggetto una moderna reinterpretazione del mito di Orfeo ed è titolato, per l'appunto, "Orpheus, The Lowdown".

da Blow UP n° 61 Giugno 2003

Andrea Tabacco's news

---

Il biglietto del concerto degli XTC al Teatro Massimo di Genova, 16 Marzo 1982.

Grazie a Marco Odino

---

15 Aug - Ten Feet Tall is updated!

---

Rumore n. 138/139 - Luglio/Agosto 2003

---
da Rockerilla n. 266 di ottobre 2002:

"Gli XTC di Andy Partridge e Colin Moulding sono attualmente in studio per registrare il loro nuovo album, provvisoriamente intitolato "Tunes To Help You Breathe More Easily". Il disco seguirà l'eccellente "Apple venus Vol. 1" del 1999 e conterrà una manciata di bizzarre canzoni psycho-pop, tra cui "My Heart Is A Compass", "Oh My Britannia", "Say It" e "Whispered Hymn".

Interessante no? Peccato si siano dimenticati di AV 2 e CoMC... mah!
Bye Ivan

---

---

> win a copy of the Coat of Many Cupboards box-set.

Thanks to Daniel Garrett

---

The Raft.com
All albums remastered!

Disponibili i primi 10 album (+ Dukes) rimasterizzati con bonus tracks. Riproduzione delle cover originali (in cartoncino l'edizione giapponese con la label identica a quella del LP). Virgin 2000.

---

created by Gianluca Munari

---

"I dischi da portare sull'isola deserta"

L'ultimo numero di Blow Up (febbraio 2002 - copertina: Lambchop) contiene, come tutti i mesi, la rubrica "desert island records",
Questo mese ospita le scelte di Andy Patridge.

Paolo Barbieri news

---

10ft.it ha collaborato con:
La meravigliosa storia degli XTC di Silvia Boschero
Tutti i giorni ore 18,40, fino a venerdì 23/2/02 - Radio Citta' Futura - Roma, 97,7 Mhz - listen live su internet

---

Hello!

Just wanted to let you know about the article we have about XTC and The
Little Express up on our website...

http://www.exclaim.ca/common/display.php3?articleid=750

Feel free to link to it. :)

Thanks!
.......................

Noel Dix
Exclaim!
CANADA

---
Goodbye

Little Lighthouse, l'importante sito di Mark Strijbos, ha chiuso.

Buona fortuna all'amico Mark.

---

XTC-remastered

Remember XTC? They're Back!

Ian Cooper has been busy remastering all 10 XTC albums at Metropolis. The series will be released on May 28th 2001. The albums testify to a legacy of highly original British pop which XTC cultivated from their early punk/new wave roots to create angular yet melodic pop lead by distinctive jagged riffs with lyrics to match. Each new project marked a progression which spawned classic hits such as 'Making Plans for Nigel' (Drums And Wires), 'Generals And Majors' (Black Sea), 'Senses Working Overtime' (English Settlement) to critically acclaimed albums such as the pastoral Skylarking.

The Albums :
White Music (1977) *** Go 2 (1978) *** Drums And Wires (1979) *** Black Sea (1980) ***English Settlement (1982) *** Mummer *** (1983) The Big Express (1984) *** Skylarking (1986) *** Oranges & Lemons (1989) *** Nonsuch (1992)

All the albums' booklets will feature recently revamped artwork drawn from the original vinyl sleeves. Each CD contains the same tracks as the original CDs although some track orders have been changed to ensure the original vinyl tracklistings precede any bonus tracks.

All ten remastered albums will be available at mid-price, and collectors should also look out for the earlier release date of the first five XTC albums on Special Edition Japanese Import on 9th April and the latter five on 14th May.

Luca News

---

Homegrown

Gli Home-Demo di Wasp Star. Gia' disponibile in rete!

da Chalkhills Digest volume # 7/21- Andy Miller scrive:

Homegrown is released in the UK on May 7th, on Idea, via Vital distribution.
XTC launch their own website at the same time, at www.xtcidearecords.co.uk (nothing there yet)

Track listing for Homegrown is as follows:

1.. Playground
2.. Stupidly Happy
3.. In Another Life (excerpt of original demo)
4.. In Another Life (Jug band version)
5.. Some Lovely
6.. Boarded Up
7.. I'm the Man Who Murdered Love (early other song cassette)
8.. I'm the Man Who Murdered Love (Tamla demo excerpt)
9.. I'm the Man Who Murdered Love
10.. We're All Light (early cassette idea)
11.. We're All Light
12.. Standing In For Joe (Lounge version)
13.. Standing In For Joe
14.. Wounded Horse
15.. You and the Clouds Will Still Be Beautiful
16.. Lie for a Lie (cassette demo)
17.. Church Of Women
18.. The Pot Won't Hold Our Love (early cassette idea)
19.. Everything Decays (early cassette idea)
20.. The Wheel and the Maypole

Infuriatingly, the Japanese version adds Didn't Hurt A Bit and Bumper Cars - the only place you'll be able to find the latter (officially at least).

Incidentally, those of you slagging off Dying and Bungalow might like to take a long hard look at The Smartest Monkeys and The World Is Full Of Angry Young Men. The former are two of Colin's - nay, XTC's - finest songs. The latter are crap. Hope this clears up any confusion.

All best

Andy

---

XTC-remastered

Prossimamente la ristampa rimasterizzata dei primi dieci album, a medio prezzo.

---

XTC, Apples Frontmen Unite
Andy Partridge and Robert Schneider writing songs together over phone

---

The Little Lighthouse

Hi, I'm making a free form radio show at KLSU. The title is The Little Lighthouse, and it is also available on the Internet. If you like XTC, I'm sure you'll like my show too. Note, the name for the show is from a Dukes of Stratosphear song. Please, check it out. www.math.lsu.edu/~zabic/lighthouse If you liked the show, subscribe to our mailng list, you'll find a little box to put your address in on the front page.

Stanislav Zabic

---

XTC Wasp Star
di Andrea Degidi

Gli Xtc sono una cult band: pochi fan (ma non pochissimi), e una sterminata singhiozzante produzione discografica.

---

XTC: Il gatto e la volpe
di Valerio Corzani

Le salaci confessioni di una coppia di geniacci del pop.

---

A tu per tu con Andy Partridge, il genio di Swindon...

Rockol intervista Andy Partridge:

---

Lucio Cadeddu, Michele Chisena e Pier Luigi Zanzi ci parlano di Wasp Star. Su "Music On TNT":
Hi there-
I just wanted to let you know that we had XTC here in our studios last May. Soundbreak.com is a dynamic music based website with live, 24-hour global webcasts hosted by professional DJs. I thought that you and your readers might be interested in checking the interview out. You have a very comprehensive site, but I didnt see this interview anywhere. Here is a direct link to our "Sweetspot" ( Archives of Performances and Interviews): http://www.soundbreak.com/events/index.php3
Hope you all can stop by~

Thanks Leila

---

Nell'ultimo film con Jim Carrey "Io, me e Irene" ci sono gli immancabili Xtatici. La scena è appena all'inizio. Il poliziotto protagonista, tranquillo e serafico, si avvia verso il negozio di un barbiere. Per sottolineare il quadretto il regista ha scelto "I'd like that".
Ho detto immancabili perché mi pare di ricordare che in altre due pellicole con Carrey (uno dei migliori attori Usa in circolazione secondo me) ci sono pezzi degli swindoniani (se non sbaglio uno è The Ballad of Peter Pumpkinhead).
Credo che non sia casuale, se non altro per appartenenza generazionale dell'attore.

---

Howdy y'all

My XTC video webpage is moving this week -- please update your links!
was: http://www.netwalk.com/~stewart/xtcvideo.htm

is: http://members.xoom.com/radioxtc/xtcvideo.htm

cheers,
Ian C Stewart

---

XTC website di Paolo Comotti

Benvenuto!

---

XTC in Rome

TO BE KING FOR A DAY una giornata con gli XTC

---

Hello!
our site, NoneForYouDear

has just put up a new review of XTC's "Wasp Star", by Mike Keneally. (Keneally was Frank Zappa's guitarist and is a solo artist with several records & tours to his credit - he's also known the guys in XTC for years). I thought you might be interested in checking it out. If there's any way to get linked up on your site too, that would be extremely good. I think fans would dig checking it out.

Thanks! great site, by the way

Rich Pike
NFYD

---

XTC in Rome

"La nostra più grande fortuna? Non aver avuto successo" - A. Partridge
di Silvia Boschero - Mauro Zanda del 12 Giugno 2000


Supersonic - l'intervista agli XTC

---

XTC in Rome
7 Giugno 2000

XTC in CHAT ore 16.30 sul sito KWmusica

Link per vedere "La Convention" di A.M.Castagna + gli streaming di Stupidly Happy e I'm the Man Who Murdered Love

---

XTC
Sonicnet.com Listening Room
Tuesday, May 30 - Tuesday, June 6

Andy Partridge and Colin Moulding paced the rise of alternative music with songs like "Dear God" and "Mayor of Simpleton." For over 25 years, XTC, has been creating uniquely uncategorizable pop music. Their newest release, Wasp Star: Apple Venus Volume 2 is a true XTC record -- bright as sunshine and crisp as rain with a wide rangeof textures. Top to bottom this is a pop masterpiece that will stagger fans and signal the return of XTC.
The sonicnet.com com Listening Room features Andy and Colin's thoughts on the new release as well full tracks from the CD.

---

Lettera aperta a Riccardo Bertoncelli

Alcune divergenze tra Bertoncelli e me

di A.M. Castagna

---

kwmusica - La stella degli XTC (alcune divergenze fra il signor Partridge e me) di Riccardo Bertoncelli

---

A scuola di chitarra dal Prof. Partridge.
Imperdibile! Su GUITAR.COM

---

Andate un po' a vedere la maglia del portiere del Marocco (almeno credo...)

http://www.dadacasa.com/ginge/immagini/portiere.jpg

(Franz news)

---

Wasp Star - Recensione di Roberto Brunelli sul sito SUPERSONIC

(Antonio Signorini news)

---

Il cortometraggio "La convention" di Alberto M. Castagna, dedicato agli XTC, verrà presentato in anteprima al Festival Arcipelago di Roma martedì 6 giugno alle ore 18.30 nella sala 4 del Cinema Quattro Fontane.
"La convention" ricostruisce, con toni umoristici, la storia della Prima Convention Italiana dei fans degli XTC, tenutasi a casa dell'autore tre anni fa.

---

THE CORK IS OUT people! The latest interview with XTC Wasp Star.

Check out this exclusive interview with XTC's Andy Partridge just click on the link below!

Uncorked:
an interview with XTC's Andy Partridge
http://www.vh1.com/thewire/news/xtc/

(thanks to Bob Gilmartin)

---

Qui e' possibile ascoltare "I'm the Man Who Murdered Love" (primo single e videoclip del prossimo album Wasp Star):
Cliccare sulla sezione "New Music First on Q101" e successivamente su "New Music First on Q101 (world premieres)".
Buon ascolto!
(Tyler Hewitt's news)

---

11 Different Animals - XTC songbook

Biografia, discografia, foto, notizie e gli spartiti musicali di:

SCIENCE FRICTION
STATUE OF LIBERTY
THIS IS POP
ARE YOU RECEIVING ME
LIFE BEGINS AT THE HOP
MAKING PLANS FOR NIGEL
WAIT TILL YOUR BOAT GOES DOWN
GENERALS AND MAJORS
TOWERS OF LONDON
SGT. ROCK (IS GOING TO HELP ME)
RESPECTABLE STREET

Interamente riportato su Little Lighthouse!

---

Alberto M. Castagna ha concluso la lavorazione di un cortometraggio dal titolo "La Convention", che è un omaggio alla musica e ai dischi degli XTC.
Giornalista di professione, musicista e videomaker per hobby, Alberto M. Castagna si è ispirato, per il suo cortometraggio, alla riunione di cui fu protagonista tre anni fa, quando insieme ad altri tre giovani fans degli XTC passo' un intero weekend ad ascoltare dischi e a commentare le canzoni del gruppo. "La convention", prodotto dalla Mediateca Roma, verrà presentato in anteprima al Festival Arcipelago al Cinema Quattro Fontane di Roma all'inizio di giugno prossimo.

---

Serve un cappellino?
http://netnow.micron.net/~philco/chalkhat.htm

---

The Little Express, il Fan Club Ufficiale del Nord America degli XTC, ha chiuso definitivamente i battenti. Varie le ragioni tra cui l'avvento di internet (per l'immediatezza e la facile reperibilita' di notizie) e l'uscita dalla band di Dave Gregory principale "informatore" del prezioso bollettino. Grazie a quanti gli hanno dato vita durante questi lunghi anni.

---

In the City segnala "Ten Feet Tall" tra i siti della settimana. Grazie.

---

Online XTC Radio
by Ian Stewart

---

TOTOTITOLO/new album
"Wasp Star (Apple Venus Vol. 2)" pare avere maggiori possibilita' rispetto a "Our Shiny Heart" e "Dog Vomit".
E l'uscita sembra rinviata al 23 di Maggio...

---

LIVE IN ITALY - download il concerto di Genova dell'82 (mp3): http://www.underworld.net/kevin/xtc/

---

Stanotte non avevo sognato...il nuovo spot della "Lupo" ha come jingle "Frivolous Tonight" degli XTC.
(Ivan Carboni news)

---

6 Marzo - da Ale Sordi la news di Mitch Friedman tratta dal "Chalkhills Digest":

Soggetto: AV2 (o qualche altra cosa) News

La masterizzazione (la terza e ultima) sarà terminata questa settimana. Bob Ludwig (addetto alla masterizzazione) ama l'album. Nelle prossime settimane verranno inviati dei promo-disc alle riviste del settore per un'anteprima, ecc. L'uscita sarebbe a Maggio. TVT ha richiesto che l'album non venga chiamato "Apple Venus Volume 2" (almeno non come titolo principale). Gli XTC non hanno intenzione di trovare il titolo ispirandosi ad un verso del precedente album, questa volta.
Finora un possibile titolo è "Our Shiny Heart" (il Nostro Cuore Lucente) riferito a una 'sezione ai raggi X di Apple solarizzata' che sarà il motivo della copertina.

Improbabile che la band partecipi con una canzone* all'album-tributo di McCartney. Il tempo a disposizione è pochissimo per una possibile apparizione (riferita ai Beatles) e i dubbi su come arrangiare il pezzo potrebbero compromettere il progetto stesso.

Martin Newell ha spedito dei demos recenti a Andy.
Ora ne sapete tanto quanto me!
Mitch

* Uncle Albert/Admiral Halsey

---

29 Feb - Ale Sordi informa:

Da venerdi' 21 aprile 2000 sara' nei negozi il nuovo, attesissimo album degli Xtc.
dopo "Apple Venus vol. I", considerato anche dalla stampa italiana tra i migliori album del '99, Andy Partridge e Colin Moulding hanno finalmente completato la lavorazione del piu' volte annunciato Volume II (in Inghilterra uscira' il 24).

Stiamo pianificando la presenza a Milano di Partridge e Moulding per la presentazione del nuovo lavoro. Vi informero' tempestivamente su date e appuntamenti.
Saluti.

Delfina Cribiori
Ufficio Stampa S4

---

AV2 e' stato masterizzato e sembra che un Promo sia pronto entro Febbraio.
(Ale Sordi news)

---

Su Kataweb Musica un collegamento a Music Maker dove poter scaricare liberamente This is Pop in formato MP3. Sempre su Music Maker e' possibile ascoltare una notevole quantita' di frammenti di brani degli XTC nei formati piu' comuni.
(Antonio Signorini news)

---

La band americana dei Persons era evidentemente stufa di sentirsi paragonata agli Xtc. A questo link i perche' delle differenze: http://www.geocities.com/notpeople/XTC.htm - Esilarante!
(Grazie a Julian Garr)

---

XTC themes gli sfondi di Drums & Wires per il tuo computer

---

A quanto pare la Virgin si appresta a pubblicare una raccolta di inediti, demo e rarità.

---

L'amico Philippe Blirando ha dato una bella spolverata a iXtc! Dategli un'occhiata: http://www.my-villa.com/

---

Nel numero di Gennaio di Rumore Pierpaolo Vettori descrive positivamente Homespun.
"Su Homespun dovrebbe esserci la scritta: Silenzio! Genio al lavoro."
---

http://store.yahoo.com/silvermooncds/xtchomltdedj.html
a questa url si può comprare la versione doppia giapponese di Homespun.
(Ale Sordi news)

---

Apple Venus 2
verra' mixato i primi di Gennaio. Sarà realizzato a Rockfield con Nick Davis (come AV1) e poi masterizzato da Bob Ludwig a NYC in Febbraio. L'uscita e' prevista per Aprile.
Due i batteristi: Chuck Szabo's (gia' nel tour di Madonna) e Praire Prince.
Colin asserisce che il suono è molto tirato ed elettrico.
Il disegno della copertina prevede una versione neon/electric della piuma di pavone di AV1.
L'album dovrebbe contenere queste 12 canzoni:

Playground; The Wheel and The Maypole; We're All Light; Wounded Horse; Stupidly Happy; Some Lovely (My Brown Guitar); I'm the Man Who Murdered Love; Church of Women; You and the Clouds Will Still Be Beautiful (all by Andy) and Boarded Up; Standing In For Joe; In Another Life (by Colin).

Le vendite di AV1:
100.000 negli U.S.A., 75.000 in Giappone, 36.000 in U.K. e circa 15.000 in Italia.

(Notizia, tratta dalla Mailing List di Chalkhills, di Mitch Friedman da un colloquio con Colin Moulding)

---

Se vi capita di andare a zonzo nella rete, vi segnalo In The City. Nella sezione dedicata ai The Best Albums of all times, compilata dai redattori stessi, troverete Drums&Wires al 14mo posto. Questo basta per renderlo simpatico.

---

Dicembre 99
A proposito di Homespun, brevemente recensito da Riccardo Bertoncelli su "Musica" di Repubblica del 2 Dicembre 99:
"...e siccome, per dirla da cattivi, Apple Venus vol. 1 era un disco noiosetto, le bozze di quest'opera sono noiose anch'esse".
Chi ha seguito Bertoncelli lungo il corso di questi ultimi 30 anni di storia del Rock (personalmente custodisco gelosamente "La coscienza di Gong", una cassetta promozionale allegata al n. 2 di "GONG" del nov. 1974, dove Bertoncelli si esibisce in alcune geniali micro-recensioni di astri emergenti e mostri sacri della musica del tempo), conosce il suo attaccamento agli XTC. E' sufficiente leggere l'introduzione al volume "XTC testi con traduzione a fronte" di Paolo Bertando. Semplicemente ritiene che AV1, pur non essendo un brutto disco, sia eccessivamente "seduto".

---

Questa è proprio bella:
"Avevo 17 anni quando da Amsterdam è arrivato un mio amico con una pastiglia marroncina. Piccolissima, con scritto sopra xtc. Allora non sapevo cosa volesse dire. Adesso sì, vuol dire ecstasy...C'è anche un gruppo musicale che si chiama così, gli Xtc: sono quelli che cantano Living in another Cube. Il testo della loro hit è "stiamo vivendo un'altra Cuba, siamo nel mezzo della Baia dei Porci...". Un gruppo americano. E infatti l'ecstasy è americana".
(L'ESPRESSO, 18/11/99, pag. 82) Grazie a Raffaele Barela per la segnalazione.

---

Novembre 99 - Referendum 'Musica e Dischi': ecco la lista completa dei vincitori
Doppio successo di Tom Waits nel tradizionale referendum indetto dal mensile "Musica e Dischi" tra i maggiori critici musicali nazionali, giunto quest'anno alla ventesima edizione. L'ultimo CD del cantautore californiano, "Mule Variations" (Epitaph) si è aggiudicato con largo margine il primo posto nella categoria riservata agli album pop-rock di produzione internazionale, precedendo "Californication" dei Red Hot Chili Peppers, "Hours…" di David Bowie, "Apple Venus vol. 1" degli XTC e "Dead Bees On A Cake" di David Sylvian.(Yahoo Italia Notizie)

---

Ottobre 99 - Quasi la metà di Apple Venus Vol. 2 è stata completata definitivamente. Tra gli strumenti, la batteria avrebbe un ruolo di primo piano.

---

Maggio 99 - gli Xtc tornano in studio per la registrazione di Apple Venus 2 che dovrebbe vedere la luce non prima di Febbraio 2000. Grazie per la notizia a Roberto Moroni che ha incontrato personalmente Andy Partridge in quel di Milano in occasione delle interviste a Radio Popolare e Suoni e Ultrasuoni (Radio 2).
Swindon - lo studio è stato ricavato da un allargamento del garage nella fattoria di Colin Moulding.

---

Voci: a quanto pare AV2 si presta ad essere suonato dal vivo. Infatti Andy Partridge sembra interessato all'acquisto di un grosso camion per alcune possibili esibizioni live gratuite. In alcune città già designate, suonerebbero dalla parte posteriore del camion ed il concerto sarebbe trasmesso simultaneamente dalle radio locali.